Shifting from paper to software
Jeppesen, a subsidiary of Boeing, is the leading supplier of navigation charts for commercial aviation. At the time Swim started this design program, printed navigation charts were pilots' only option. Jeppesen was moving from many decades as a producer of printed products to a software company. Swim helped drive a state-of-the-art transition to electronic chart delivery, meeting FAA regulatory requirements and designing the interface for the FliteDeck Pro Electronic Flight Bag.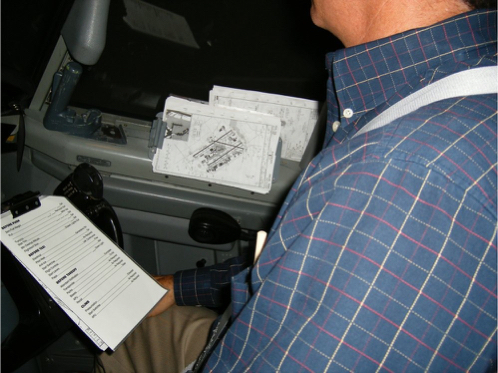 New design thinking processes
Swim introduced Jeppesen to a user-centered process, involving commercial pilots throughout — from early research through low-fidelity designs to prototype testing in actual flight decks. We quickly came up to speed on the domain by joining a Southwest crew in their flight simulator, meeting with pilots with varying experience and enlisting the ongoing subject matter expertise of a FedEx pilot. We vetted early designs with teams of pilots from different carriers and ran pilot panels where card sort exercises and other methods were employed to unearth standard practices, unique procedures of specific carriers, and critical situation behaviors. We developed considerable content expertise, ensuring FliteDeck Pro's ease of use for pilots who have little time to invest in learning new systems.
During the course of the program, Jeppesen established a small, internal UX group. We collaborated closely with this group, sharing design rationale and providing design materials as necessary to construct an internal Wiki.
Methodology lives on
Soon after the FlightDeck Pro product shipped, the FAA approved iPads for use in the flight deck. The internal team transitioned the design knowledge from our program to new efforts. We undertook several other projects for Jeppesen, including a dynamic Enroute e-map for the Airbus A380 and products for general aviation customers. The methodology and design approach Swim brought to FlightDeck Pro and other subsequent projects continues to influence Jeppesen software projects.
" Working with Swim allowed Jeppesen to step outside of refactoring the same ideas… they brought us a modern and sophisticated vision of the future of electronic aviation charting solutions." — Sue Foster, Interaction Design Lead, Jeppesen