Identifying the problem
The existing customer service web pages for Gap's brands were not providing shoppers with the information they needed. The result: extra call volume for the Call Center, as shoppers gave up on finding answers themselves and simply called for help.
Swim undertook a full audit of the existing customer service pages, noting issues with the overall structure, individual pieces of content, navigation and the user interface. We also reviewed call logs and spoke with Call Center personnel and key stakeholders to identify the issues customers most frequently confronted.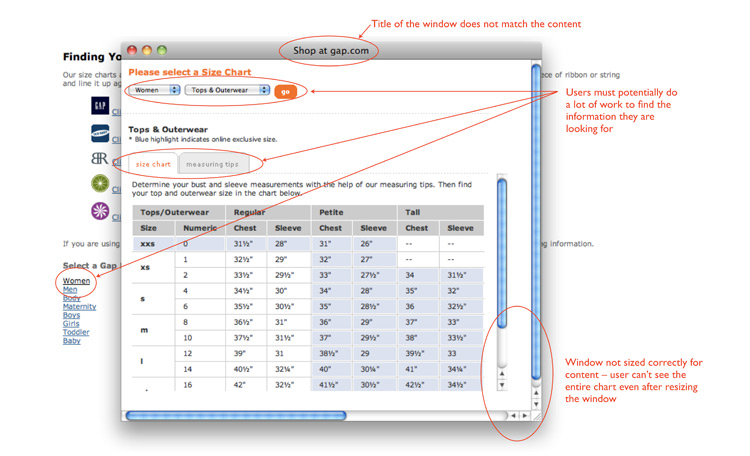 Empowering customers with straightforward information
Swim completely overhauled the Customer Service area, providing a new structure that clearly addressed customer issues. We introduced a Top Customer Questions area, prioritized key topics and subtopics for most impact, and standardized the navigation and information hierarchy.
We rewrote the content for each section and introduced information graphics and tables for clarity. We made the steps for returns by mail easier to follow, and presented the return windows for each brand in a way that is readily understood.
Creating a consistent system
While some custom content was required for each brand, we designed the Customer Service area to be universally modular. This reduced implementation complexity, as the majority of the content could be used for each of the four Gap brands. Differentiation was achieved through brand-specific visual treatments that Swim provided.
Along with the onscreen experience, we simultaneously redesigned the print invoice that ships with orders, introducing consistency between the directions printed on the invoice and those provided online.